How to ease your child's dental fear
Posted by DR. JOEY SALAVERIA on Aug 21 2019, 09:09 PM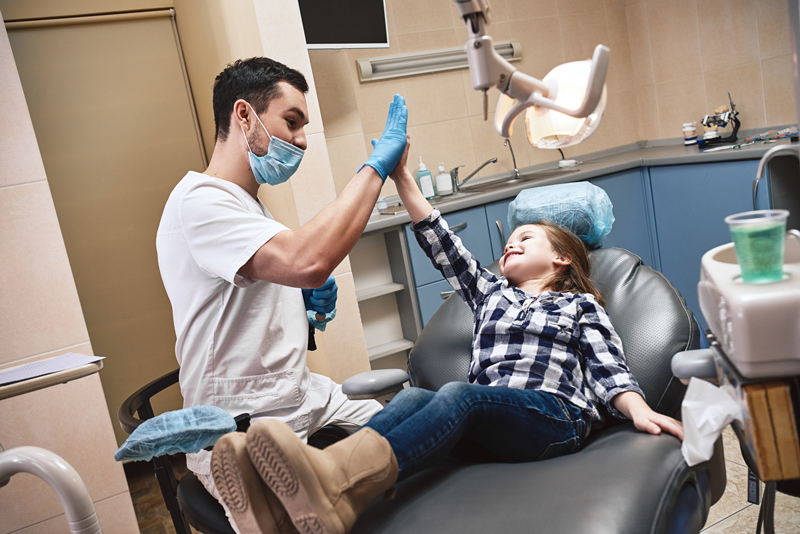 How to ease your child's dental fear
The idea of going to a dentist can incite fear in our minds. This is especially true in the case of children. Other misconceptions about visiting the dentist include the use of complicated dental equipment that could cause pain. In some children, the very image of a dentist could be a person who would pull out their teeth!
These may seem funny to us, but to children, this may not create the right image of a dentist's office. The moment they come to know about an upcoming dental appointment, they would start feeling uneasy. How can parents change this idea that their kids have got in their mind? How can they bring them to the dentist office for regular visits? Here are a few tips:
Impart Early education
One important thing parents should do is to educate their children on the importance of dentistry and its associated benefits. You might as well compare a dentist to the tooth fairy if that helps! Explain to them that the dentist helps them grow strong and healthy teeth. Reassure them that the procedures wouldn't be painful and that the dentist is quite a friendly person. 
Reassure them
When you bring your child to a dental office for their consultation, try to make them feel comfortable and relaxed. For a very young child, you could sit on the dental chair holding your child. Bring along their favorite toy so that their attention can be kept diverted while the treatment is being performed. In case they make a fuss, the toy would come in handy.
Find a kid-friendly dentist
When it comes to treating children, dentists have to be extra gentle and friendly. We understand the importance of this, which is why we treat all our young patients in a jovial and fun way. When the dentist gets along with the child well, the treatment procedure can be made easier and more effective. And when you visit us for the next consultation, the benefit of familiarity would play a significant role.
Leverage effective sedation
Sedation is quite useful in dentistry, especially in the case of younger patients and kids. Sometimes, when the nerves get to the patient, no matter how much you try to comfort them, the patient ends up feeling anxious. In such situations, we suggest using dental sedation to calm the patient's nerves. There's no need for you to worry about giving your child a sedative. Nitrous oxide, commonly known as 'laughing gas' is commonly used. When it starts to take effect, things would start to appear funnier and the patient would feel relaxed. The drug has no negative effects and would wear off by itself in a short while.
Next time, when you have to take your child to the dentist, keep these simple yet effective tips in mind. If you have any questions, feel free to reach out to us.